Screenings
Screenings
Recorder premiered at the 2019 Tribeca Film Festival, and played at Hot Docs, London Film Festival, and numerous other film festivals and museums around the world. Zeitgeist Films distributed the film in theaters across the US, followed by DVD and streaming releases. Recorder broadcast on PBS Independent Lens and will be released in the UK soon.
Upcoming Screenings
PBS Independent Lens Broadcast
Free Streaming
until July 14th
UK Release
Coming to
Theaters & Streaming
November 2020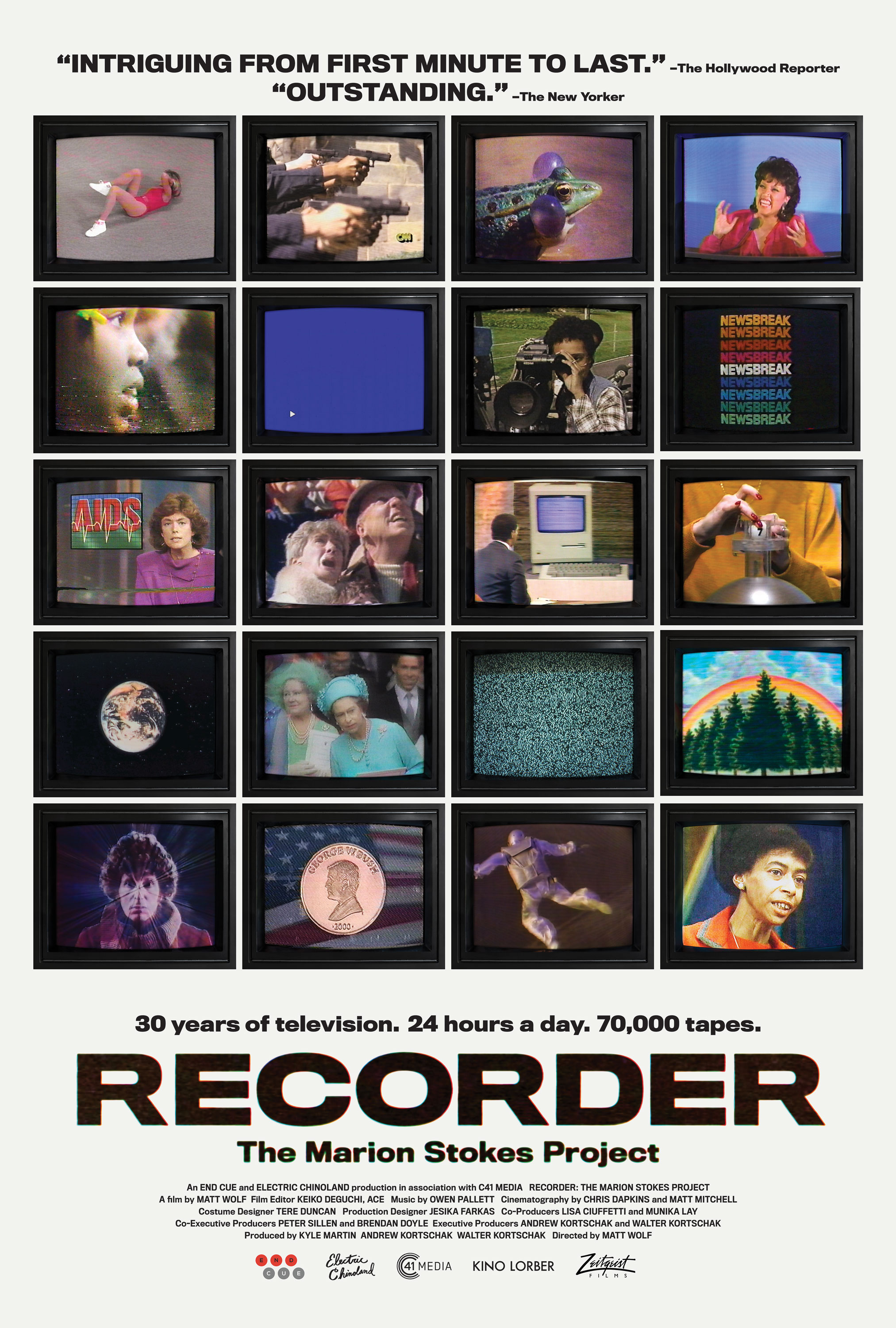 Reviews & Press
"Outstanding... An information revolutionary, Stokes, despite her decades of isolation, touched the nerve center of the times." - Best Films of 2019,
New Yorker
"Weirdly exhilarating... Enlightening and the stuff of madness." Critic's Pick -
New York Times
"The Information Age has found a startling, eccentric heroine in the subject of Matt Wolf's eye-opening documentary." -
LA Times
"Matt Wolf's remarkable
Recorder
uses Stokes' recording obsession as a way to explore both Stokes herself and the world she literally committed to video tape. The results are fascinating, weird, and often quite moving." -
Indiewire
"Intriguing from first minute to last... Relating this stranger-than-fiction tale with the narrative twists and turns of a well-paced thriller,
Recorder
will make news junkies feel a lot better about themselves." -
Hollywood Reporter
"Utterly compelling and beautifully textured… A thrilling portrait of a woman collecting the history of the world as she lived through it through the very media we all engaged with, this is a powerful and truly important documentary feature." -
CriterionCast
"
Recorder
quietly seeds damning observations about the ways media narratives are formed, and how the shapers of these narratives distort the truth and our worldview." -
Flixist
"Marion's life makes for a pensive, complicated romantic tragedy." -
Nonfics
Artforum
The Guardian
Frieze Magazine
LA Review of Books
Filmmaker Magazine
Forbes Magazine
The Wrap Review
BBC News
Philadelphia Inquirer
The Filmmakers
Directed by Matt Wolf
An
End Cue
&
Electric Chinoland Production
in association with
C41 Media
Producers
Kyle Martin
Andrew Kortschak
Walter Kortschak
Executive Producers
Andrew Kortschak
Walter Kortschak
Edited by
Keiko Deguchi
Music by
Owen Pallett
Cinematographers
Chris Dapkins
Matt Mitchel
Director Bio

Matt Wolf is an award-winning filmmaker in New York whose feature documentaries include
Wild Combination
, about the cult cellist and disco producer Arthur Russell and
Teenage
, about early youth culture and the birth of teenagers. Matt's newest film
Spaceship Earth
is about Biosphere 2, a controversial experiment where 8 people lived quarantined inside a replica of the planet. The film premiered at Sundance and is streaming on Hulu. Matt's short films include
I Remember
, about the artist and poet Joe Brainard, Time Magazine's
The Face of AIDS
about a controversial Benetton advertisement, and
Bayard & Me
, about the civil rights activist Bayard Rustin. He is also the director of HBO's
It's Me, Hilary
and is the co-curator of film for the 2019 Whitney Biennial. He is a Guggenheim Fellow.
︎
︎
www.mattwolf.info